Michelle & Alex Taubenheim | 5.29.2021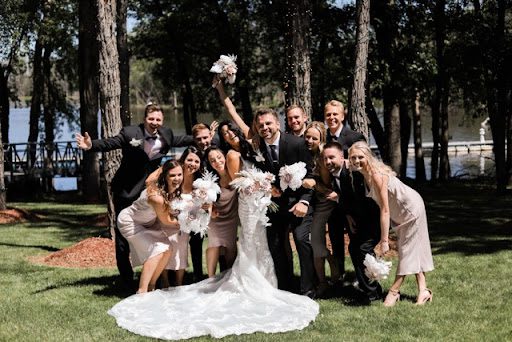 What was the inspiration for the look and feel of your wedding?
We wanted a modern look to our venue and Center Court gave us exactly that!
What was your color palette? Why did you choose those colors?
Dusty rose and white. We tried to keep it simple and modern while adding a touch of rose to all of our decorations.
Why did you choose to host your wedding at Celebrations on the River?
The ceremony space was beautiful and we fell in love with Center Court the second we walked in. It instantly felt right and the look was totally our vibe. We knew as soon as we walked in that it was the venue of our dreams!
What was your favorite moment of your wedding day?
Reciting our vows during the ceremony that we wrote for each other.
What was one thing you obsessed over, but realized it did not matter?
I envisioned my decorations at center court a certain way. I spent so much time hand making all my decorations and wanted everything to be perfect. We set up in an hour and celebrations made it easy. After all the worry over the past year on the "vision" that I had, it came together within minutes. At the end of the day, decorations are very insignificant to the day – it's about our marriage!
Would you change anything if you could do it all over again?
Not a single thing
What advice do you have for future couples planning their weddings?
Have fun with everything you do. With writing your return addresses to tying knots on your wedding favors… savor those moments! Make it special between you and your significant other by having a date night and drinking wine while doing it. Make tasky things FUN! There wasn't a single moment that I was making decorations or writing thank you's that I didn't enjoy. I reminded myself constantly that this is a time in my life I will never get back – cherish those times!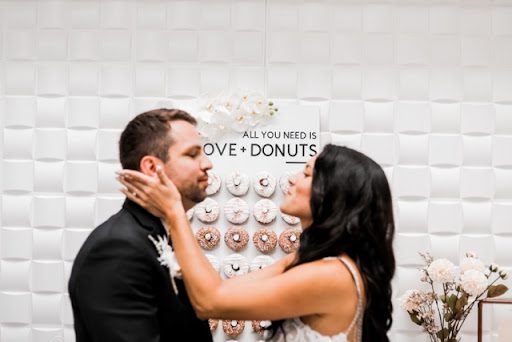 How did you manage your guest count?
We wanted around 130 people and we had exactly that. I read an article that stated if you haven't talked to the person in 1 year, you should reconsider inviting them. This was great advice and I went through my whole guest list with this and we were so happy with our count overall!
Who were your vendors? How did you choose them?
Mirror Me That Photobooth: We wanted a large photo booth with a mirror that printed bright and clear quality pictures. That is exactly what we got and the pictures turned out incredible!
Krista Lynn Photography: Krista was down to earth and that's exactly what we wanted. She was in our price range and her pictures weren't overedited and they were raw which is something that I appreciated so much. She truly captured our day perfectly!
Su Casa Salon: Karina gave me the bridal hairstyle of my dreams! Also a bonus that she is so sweet and kind!
Linda's Bakery: Their cake donuts are to die for! The delivery was easy and they designed our donuts exactly how we wanted them for our donut wall.
Simple Focus Videography: We received a video that brought us to tears. We get to watch ourselves get married every year for the rest of our lives and that is something we will always cherish. They perfectly showed our true emotions and how fun the entire day was!
Faces by Hillary: Hillary was so sweet and followed my bridal makeup requests to a T! She truly made me feel like a princess.