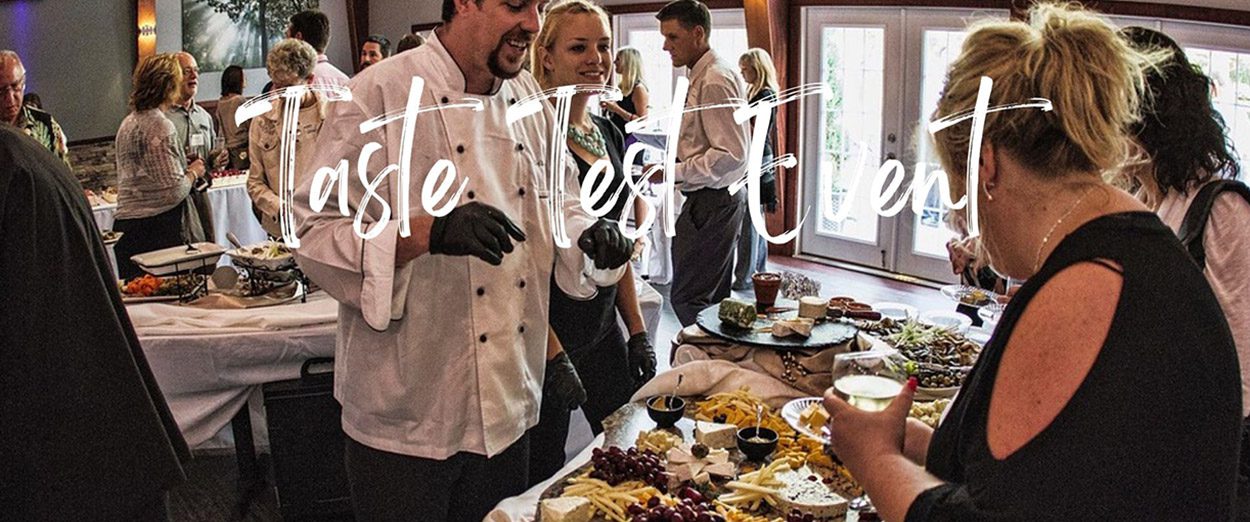 Taste Test & Décor Events
Several times each year, our talented and passionate Executive Chef showcases a variety of appetizers, entrees, sides and desserts for our brides and grooms to sample. It's a wonderful opportunity to get a sense of the style, quality and presentation of the food…then pick your favorite(s)!
We also showcase a ton of different decor options. Everything from centerpieces, table linens, table runners, chair covers, backdrops, signage, lighting, specialty furniture, photo backdrops and more.
There's an open bar too! So please, come hungry...and thirsty!
February 4, 2024 | 4-7pm
February 18, 2024 | 4-7pm
June 30, 2024 | 4-7pm
November 17, 2024 | 4-7pm
RSVP's are required a minimum of 14 days prior to the Taste Test date. To RSVP, click the button below and complete the form.
Doors open at 4pm. Please do not arrive earlier. This is a 3 hour long event, with scheduled start times for each aspect.
Decor | 4PM - 5PM
Appetizers | 5PM - 5:30PM
Main Entrees & Sides | 5:30PM - 6:30PM
Desserts | 5:30PM
End of Event | 7PM
The most popular entrees are prepared along with a few entrées of the Chef's choice. Most side options are available. As well as a handful of  appetizers and desserts.
You can preview the taste test menu below.
We highly recommend you attend 6-9 months prior to your wedding, but not sooner. We typically do not accept RSVP's greater than 9 months prior to your wedding. 
A maximum of 150 total guests may attend each taste test event. Once the maximum guest count is reached, you may not RSVP for that taste test event any longer.
Sorry, children under the age of 18 are not allowed to attend the event.
Typically, no, but we will do our best to accommodate your special request.
It's complimentary for the bride and groom. Additional guests are $55/each.
Click the "RSVP" button above and submit the RSVP form.
Typically, no. We host group taste tests with the hope that one of the dates works for your schedule. However, we understand some circumstances cannot be avoided and will work with you the best we can.
Private 1-1 taste tests when approved, are limited to 3 entrees and 4 sides. Salads, appetizers, desserts and late night snacks are not offered at private tastings. Private taste tests cost $75/person.
No. Payment(s) for additional guests attending the taste test event may only be added to your invoice. Day of event payments are not accepted. If you want to make a payment towards your total invoice, please mail a check or call with a credit/debit card before or after the taste test event.
The event is held at Celebrations. The address is 2100 Dawson Avenue LaCrosse, WI 54603
In addition to food, a wide variety of décor options are also on display. Each table is uniquely decorated showcasing different designs. Most of the products in the Dream Décor Package will be on display, in addition to upgraded décor options.
Table Linens
Napkin Linens
Table Runners
Centerpieces
Chair Covers
Chair Sashes
LED Lighting
Signage
Backdrops
Specialty Décor and More!
This event is well-attended and there may be a limited amount of time to answer specific questions and address specific details, so we recommend that you make notes with questions about your event, and then email us to make an appointment to meet in person.