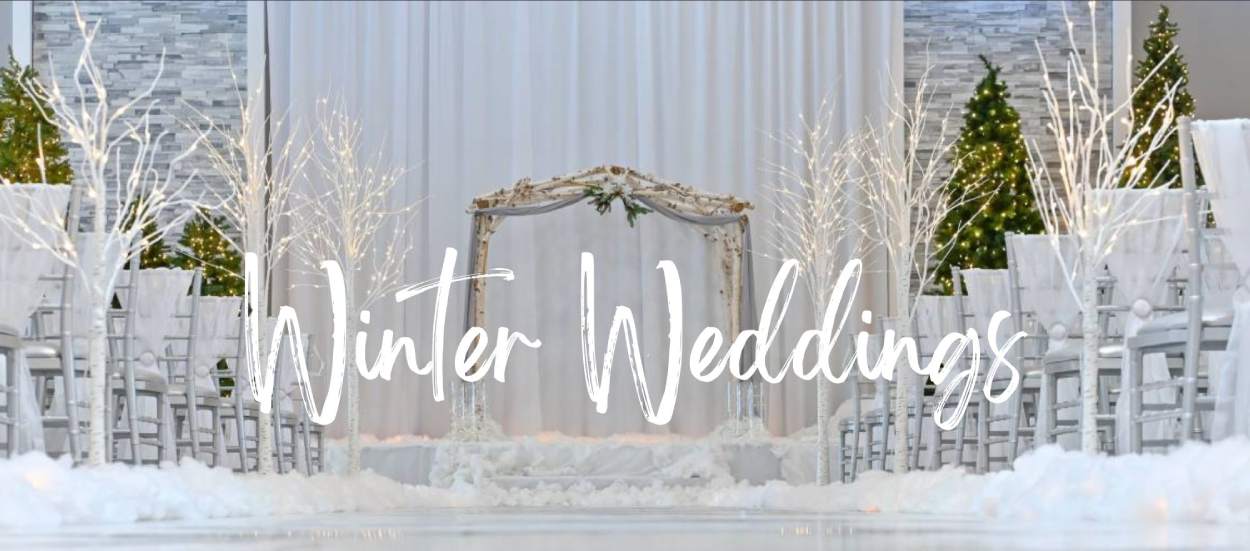 Discover the unmistakable magic of a winter wedding. Whether you are warm and cozy by the fire, playing in the snow, or a hopeless romantic let us make your winter wedding dreams come true!! Celebrations has three unique venues to choose and a winter wedding special, available December - March.
2-4-1 Ceremony + Reception Rooms*

When you book a winter wedding, you get 2-4-1 rooms, with access to two rooms! One for your ceremony and one for your reception party.

$1,500 Free Decoration Budget**

To top it off, you also get $1,500 in free decorations to make your dream winter wedding come true.
Indoor Winter Wedding Ceremony
Why Book a Winter Wedding?
Save Money. The room rental fees are less expensive. Vendors are less expensive. And hotels are less expensive.
Double The Space. When you book a winter wedding, you get 2-4-1 rooms, with access to two rooms. One for your ceremony and one for your reception party.
$1,500 Free Décor. Get WOW factor decor for a dream winter wedding. Choose from our amazing decoration themes or design your own based on our in-house décor.
Better Availability. You'll have access to more open dates and more options that the traditional summer wedding.
Better Vendor Availability. You'll have more options with photographers, DJ's, hair/makeup and more. There's also a good possibility of saving money with your vendors too.
Convenience. With the busy summer season behind us, many of your loved ones have more days off with the holidays and are less busy in the winter months.
Winters Are Wisconsin. It's part of who we are, where we live. Winters are part of us. It's home.
#1 Winter Wedding Venue. Choose from three breathtaking venues capturing the natural beauty of winter with winter decor options that are absolutely stunning.
We offer three breathtaking rooms capturing the natural beauty of the river with spaces that connect your guests to the outdoors.


Located just two blocks off I-90, we are centrally located in La Crosse, WI. Easy access coming from downtown or out of town with plenty of free parking.
Contact a Celebrations Event Planner Today!
Perfect Venue
★★★★★
"All our guests commented on how good the food was, and how perfect the venue was, so a good time was had by all. They made my husband's retirement party a memorable and enjoyable event. We had a blast!"
-Leslie
Everything was Perfect!
★★★★★
"We celebrated our 50th wedding anniversary vow renewal ceremony. Everything was wonderful! The venue was beautiful! The food was great! The DJ they recommended was awesome! Everything was perfect I would highly recommend this venue! I give them a 5 Stars for making my special day so perfect!"
-Renee & Jim
Made Our Wedding Vision Come True
★★★★★
Celebrations on the River made our wedding vision come true! We had such an amazing time on our wedding day. They made planning the entire wedding very easy with Ann and her staff always there for questions the entire way. I literally couldn't have asked for a better day. We got so many compliments on the venue and the staff! Our family said Megan was awesome in getting needs met on our day and she was very helpful to myself and the groom! The entire staff at Celebrations was amazing from the planning process to the day of! I highly recommend utilizing them for weddings and events. Thanks so much for making our day amazing!!!
-Amanda
WOW!
★★★★★
"From start to finish, all I can say is WOW. We fell in love with the River Park venue, it was the perfect size, colorful changeable lights, and a separate buffet room that aided in the flow of our guests getting their food. The bridal suite was elegant and handy for getting ready and storing our items. Behind the three seasons room the trees are wrapped with lighting that adds an element of enchantment."
-Hanna
Efficient, Speedy and Well Organized
★★★★★
"Overall the service was great! Efficient, speedy, and well organized. Our guests were pleasantly surprised with the space. Many people did not know this venue was even available. The food was good, the dance floor was rocking, and the service provided from staff was great."
-Kelsey
Scenery is Beautiful
★★★★★
This venue has everything! Their staff is amazing and helped take a lot of stress out of the wedding planning process. The location and scenery is beautiful, it was perfect for our outdoor ceremony. We were in River Park and loved everything about it.
The food and drinks were wonderful and the space was set up perfectly for what we wanted. Celebrations has so many décor options to choose from!
The bridal suite was so convenient and beautiful; my girls and I had so much fun getting ready there.
I could continue on and on forever about all the amazing things at this place! Our wedding day was truly perfect thanks to Celebrations!
-Mara & Ty
Fairytale Wedding
★★★★★
We planned our wedding 3 times with Covid, and Celebrations made everything a breeze. Everyone was so organized. It rained on our wedding day, and Ann and the team made sure we still had our fairytale wedding. Several guests told us it was the best wedding they had been to, and everyone was so impressed with the service, food, venue, staff, and everything down to the decorations. The bridal suite was so fun to use as we got ready. It was truly our dream wedding thanks to the team at Celebrations!
-Ashley & Danny
Perfect Venue
★★★★★
"Celebrations is the perfect venue! We got so many compliments from our guests. The venue is so beautiful. The staff was great to work with and the food was delicious. The staff did all the setup, takedown, and clean up so it was as stress-free as it could have been for us. Would definitely recommend Celebrations!"
-Jenny
Everything and more
★★★★★
Celebrations on the River was everything and more that we could've asked for in a venue. The staff was extremely accommodating and responsive. It was also very clear that they were working towards making our wedding day as perfect as possible. The process of planning our wedding was quite simple and highly organized, which we really appreciated. We were in the Serenity Hall and the food and decorations were amazing! Overall, we are so happy that we went with Celebrations on the River and would recommend it to anyone who is looking for a venue!
-Stacy
Beautiful Scenery – Great for Pictures!
★★★★★
"The views are just beautiful. It is a great place to take pictures for your wedding. It is a plus that you don't have to travel anywhere to have a beautiful scenery."
-Gabrielle and Mathias
This Venue is Worth Every Penny
★★★★★
I cannot say enough great things about Celebrations on the River! My husband and I got married in the Center Court venue and it was the most BEAUTIFUL venue ever. Ann and her staff went above and beyond throughout the entire planning process as well as the day of. They set up and tear down everything which allowed for us to focus on getting married and enjoying every second of the day. THIS VENUE IS WORTH EVERY PENNY!! I have gotten countless compliments from our guests on how beautiful the venue was, how great everything was handled (food, moving of tables, bartending, etc.), the food, and the staff!! Ann and all the Celebrations staff definitely aided in making it OUR BEST DAY EVER 🙂
-Alyssa
Love the Backyard
★★★★★
"One of the easiest venues that I have worked with…and I have organized events in the east (NC), west (CA), and south (TX and MS). Very clean. Very good food (several comments on the Alfredo). The views are amazing! Love the backyard!"
-Margaret
Food – was AMAZING
★★★★★
"We were very pleased with how the day went. Food – was amazing! Lots of compliments on flavors and quality! Kids Meals – were hot and great and we were glad the delivery option was available! Centerpieces – were just as we planned at our meeting! Venue – great compliments about the venue, cleanliness, and setting.  Thanks again for everything!"
-Jack
Everything was Beautiful
★★★★★
"From the first day we toured this venue, we knew that it was perfect for our wedding size and family vibe! The day of our wedding was unbelievable! Everything was BEAUTIFUL and exactly what we imagined. We can't thank the staff enough for making our day so perfect!"
-Jessica
Truly Magical
★★★★★
Celebrations was the perfect venue for my husband and I's special day! We had our wedding in Center Court and it was truly magical. The staff was wonderful and hardworking throughout the entire day which kept everything running smoothly.
We received SOO many compliments on the venue and especially the food!! The bridal and grooms suite were also a huge hit with our wedding party. I would also recommend the VIP package as it makes everything so convenient.
My husband and I primary worked with Ann and Sarah who were both amazing!! Their energy and personalities made the process so fun! I love Celebrations and consider them family 🙂
-Autumn
This Place Even Smells New
★★★★★
"Lots of compliments on the venue. I gave quite a few people a tour who mentioned it being a good place for a wedding. "This place even smells new". It is a great venue and the staff did everything right."
-Kristine
Wonderful Service
★★★★★
"Amazing hosts, who did everything in their power to make our day perfect! They were wonderful to work with – responsive, and always available for questions and clarifications. The service was wonderful. We greatly appreciate everything your staff did for us, and how amazing our day turned out!"
-Danielle
ZERO Negative Comments
★★★★★
"Your team did a great job. Lots of positive comments. And ZERO negative comments."
-Mark
Wonderful Staff. Even Better Venue!
★★★★★
"First, the ambiance of the lit trees–the ceremony with a water-side backdrop–the beautiful banquet area and sunroom area–and overall flow of the space and aesthetics were perfect for our daughter's dream wedding. And, thank you Adam for your patience. And then Ann. She is amazing. She anticipated all my requests. She even thought ahead of my requests that I hadn't even considered and kept our event flowing smoothly."
-Cheri
Great Night
★★★★★
It was a great night. We will definitely coming back for future events.
-Kirstie
This wedding venue has it all!
★★★★★
This wedding venue has it all! We wanted a place that planned, prepped, catered, and was flexible. This place had it all! We got married this last Saturday and every moment was perfect. Our guest raved about the food, outdoor views (day and night), and staff! All staff members were helpful and supportive. They all just wanted us to have the perfect day and the most definitely delivered.
-Brenna
Delicious Food
★★★★★
"The staff did an amazing job and we got so many compliments on the venue. The food was delicious and everything was absolutely how we imagined it."
-Landra and Tyler
Professional, Flexible & Timely
★★★★★
"The venue is beautiful from the outdoor area to the 3 season patio and the side patio, lighted trees, docks, and dining area plus of course the fun room right next door. The venue they have is 100% right. The event planners were wonderful, professional, flexible, timely and seemed very knowledgeable. They really helped solidify our plan and dig into the details. Our day was amazing!"
-Jenna and Josh
Best in La Crosse!
★★★★★
"Very classy facility, best in La Crosse! I would definitely recommend Celebrations on the River to any friends or family!
-Jamie & Jarod
Loved Everything!
★★★★★
"Loved everything! It was such a pretty venue and the food was perfect! The event planners were so easy to work with!"
-Chris
Definitely Recommend!
★★★★★
The staff at Celebrations made planning for my special day such a breeze. They were super helpful and made sure everything was perfect the day of!! The food was amazing as well. I would definitely recommend to anyone that is looking for a venue for their wedding to choose Celebrations!! Also, the new Picture Paths are SOOOO adorable!!!
-Caitlyn
Good price, great value!
★★★★★
"Our ceremony was everything I dreamed about. Mother nature didn't cooperate, but the Celebrations team moved everything indoors, let us in a day early to decorate and everything went perfect. Good price, great value!"
-Rochelle
Over the Moon
★★★★★
Words cannot even describe how amazing this venue and experience is! I am over the moon we chose this beautiful location in La Crosse for our wedding. From working with the staff to the beautiful setup, it was all perfect! I loved being all in one location for our big day. The bridal suite was a huge plus for me and my girls to get ready. The outdoor area was beautiful for our ceremony, and perfect during cocktail hour. The indoor area was beautiful on its own, and once my decoration vision came to life, it was beyond perfect. The staff helped everything go smoothly. I personally worked with Ann during all my planning meetings and during the big day. My husband and I cannot recommend her enough! She was so incredibly helpful and kind. She helped me pull of a wedding that far exceeded my dreams and expectations. If you're planning a wedding, look no further for your venue; Celebrations is the ONE!
-Alyssa
The Bridal Suite was AMAZING!
★★★★★
"The bridal suite was AMAZING!! It was beyond amazing to have a large indoor and outdoor space, with a full kitchen, bar, kitchen table AND 3 salon stations. We received so many compliments from our family about the venue from the food, the beautiful venue, the outside space, and the list goes on. It was a perfect day. We would HIGHLY recommend!!!"
-Heather
Blown Away Impressed
★★★★★
The service, friendliness, attention to detail was outstanding and I was blown away about every aspect of the venue. I was very impressed with all of the staff. They've thought of every detail surrounding weddings especially with the gift card envelope slot/safe. The day was absolutely perfect, we had zero negative feedback. We were blown away impressed!
-David
Give Em' a Raise!
★★★★★
"Whatever the coordinators are paid – it's not enough. I can't say enough about how professional, cordial and hardworking those ladies are and I am so thankful they were coordinating my son's wedding."
-Cheyenne
Best day ever!
★★★★★
Gorgeous venue, great food and good communication. Loved the pictures path! We got so many compliments on the food. The bartenders were absolutely stellar. The staff always answered any questions quickly. We couldn't have asked for a prettier venue with better staff. Would definitely recommend everyone have their wedding there! Best day ever!
-Alyssa
No other place could compare
★★★★★
We honestly can't say enough great things about Celebrations!! Once we toured the venue we knew this was the place for us! No other place could compare to the beauty and accommodations! We had to reschedule 3 times due to Covid! Ann, Sarah and staff were very accommodating, helpful, and understanding throughout the entire process. They made the entire planning process a breeze, everything was so organized! They also coordinated the entire wedding day, therefore there was no need to worry about keeping on schedule and we could really just enjoy and take in the entire day! They did all the setup, even the extra décor things we brought in! We chose to do a décor package through Celebrations for our table settings and I absolutely highly recommend this as they have so many options to choose from! The bridal suite is amazing, we had the hairstylists and the makeup artist come right to the venue! We can't wait to see our photos as the scenery at Celebrations is a beauty in itself, no need to leave the venue site! We had so many guests comment on the beauty of the venue and how delicious the food was! Best Day Ever! 09-17-2021- River Park
-Erinn
Very Pleased
★★★★★
"It was again a very pleasant experience thru the whole process. We were very pleased with all aspects of the service and professionalism."
-Marilyn and Dennis
Highly Recommend This Venue
★★★★★
"We had my daughter's wedding at Celebrations on the River and it was such a great decision! The event planners made sure we had everything put together before, during, and after the wedding from chair covers to catering. We had such a great time!! Would recommend this venue to anyone!!"
-Laura
Fantastic Job!
★★★★★
"Simply said, "thank you". This place makes magic happen and bent over backward to make us happy! I can't say enough about Adam and his team. You guys did a fantastic job!"
-Kevin
Marvelous Job
★★★★★
"Caleb did a marvelous job, he's so easy to work with and did a wonderful job setting everything up. We had a great turnout and everyone loved the food and drinks. I would highly recommend this place to anyone."
-Christine
Very Impressed
"We were very impressed with the venue, the staff worked hard to be accommodating to all our requests. The coordinators kept our day running smoothly and took care of everything promptly when asked. All our guests complimented the food."
-Michael
★★★★★
Look No Further
★★★★★
We cannot even begin to say how wonderful Celebrations was to us on our special day! Beautiful venue, awesome food, super helpful staff! We had nothing but a wonderful experience from the first day of planning to the big day! Everything was all in one building which was super helpful for guests and ourselves. Everyone at Celebrations was always there to answer any questions we had throughout the planning process without hesitation. Our day was absolutely beautiful and I couldn't have imagined having it anywhere else. If you're looking for a venue or planning a wedding, look no further, Celebrations on the River will make your dreams come true!
-Chloe
PHENOMENAL
★★★★★
"Both Ann and Brenna were PHENOMENAL. If it weren't for them, I would have lost my mind. They're definitely the best coordinators I could have asked for and really know what they're doing. Everyone went above and beyond to make sure every last final detail was met and that it wasn't stressful for us at all!"
-Ann
Absolutely gorgeous, especially at night
★★★★★
We were married on May 1st, 2021. The venue is absolutely gorgeous, especially at night. The trees are wrapped in beautiful lighting and the venue has LED lights that change color to match your wedding theme! The staff is super helpful and amazing at what they do. They made sure our special day ran smoothly down to the last detail! I highly recommend checking them out if you plan on getting married or even renewing your vows!
-Jordan
Top-notch staff
★★★★★
We had a beautiful wedding at Celebrations. Top-notch staff who made our day run perfectly. Celebrations takes the worry and stress out of your planning so you can truly enjoy your day! Not to mention the food is great, and you cannot beat the breathtaking venue !
-Brittany
Easily 5 Stars
★★★★★
"Our experience was easily rated 5-stars. From the organization of our wedding, all the way to our guests enjoying themselves, the staff at Celebrations helped make our wedding night special. Not to mention the fantastic style of the hall and the beautiful lights out on the patio."
-Mindy & Devin
Very easy planning process
★★★★★
The staff was very professional the whole day and at my side when I needed them! The River Park room is stunning. Overall, Celebrations was very easy to work with to make our wedding day beautiful!! Highly recommend to anyone engaged and wanting a very easy planning process!
-Kelsey
Thank you for truly a perfect day!
★★★★★
Our wedding day was fantastic. From planning, communication, to the wonderful staff everything went off exactly as it was planned. We received many compliments on the food and overall how the wedding was so well done. Thank you for truly a perfect day!
-Morgan
Spot-on, Organized, Clean!
★★★★★
"When I walked in Saturday, I stopped in my steps the room was beautiful! I was soooo happy! The setup was spot-on perfect!! Organized! Clean! Ann and the staff were so kind, helpful, and always stopping by to check in with me. The food was AMAZING! And the guests loved it! Many of our guests said to me over and over how much they loved the venue!"
-LaDonna
Great Place for a Wedding!!
★★★★★
"Such a friendly and accommodating staff! Rehearsal went smooth, setting up was easy, and we had no worries during our wedding and reception! Such a great place to have a wedding!!"
-Pearl
Stress-free and easy
★★★★★
Seriously best day of my life! They make planning a wedding stress-free and easy!!! They let you know when to start booking people like photography, DJs, etc., they give you recommendations on who to look into if you are clueless where to start like I was! I would recommend over and over again!! The food is also so do so delicious!!! Many compliments from my guests and is beautiful!
-Karli
Fairy Tale Wedding…
★★★★★
"Thank you again for making our dream wedding come true. You and your staff were awesome, the venue was perfectly beautiful and the day went flawless! We truly appreciate your hard work and long day/night to make our day a true fairy tale."
-Brianna and Adam
BEAUTIFUL!
★★★★★
"BEAUTIFUL! The venue is extremely glamorous. They set up everything for you ahead of time and allow you to do rehearsal there if the space is available. Overall, we had a great time and so many of our guest said it was the most beautiful venue."
-Kori
*Subject to availability. 2-4-1 special available for winter weddings hosted December - March only. Restrictions apply to 2nd room for indoor ceremony, up to 4 hours. See Event Planner for details. 2-4-1 room rental applies to the higher of the two room rental fees. First client to book has first right of refusal on ceremony start/end time(s) and decor options. Some restrictions apply. See event planners for details. Table(s) and chairs included. Additional discounts not applicable. Sales tax not included.
**Subject to availability. Applies to in-house decor options at the time of booking only. No credits or reallocation(s). No cash value. Additional discounts not applicable. Available to new weddings booked after 2/25/2023 only.