Justin & Halie Haase | 1.15.2022
What was your color palette? Why did you choose those colors?
Sage green and light gray. Sage green is my (Halie) favorite color and I just knew it would look good with the snow.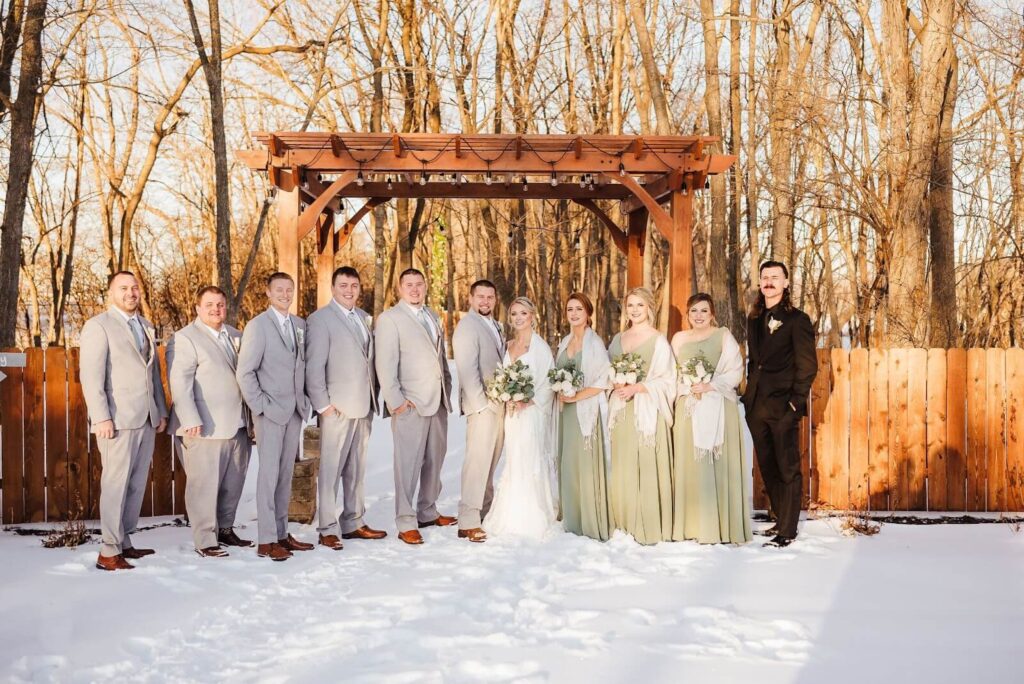 What was the inspiration for the look and feel of your wedding?
We wanted our wedding to be somewhat rustic with greenery. I think both worked well with the venue. We had our ceremony in serenity Hall with Christmas trees and lanterns/greenery down the aisle and a greenery hex arch.
Why did you choose to host your wedding at Celebrations on the River?
We chose Celebrations because it was the perfect half way point for both of our families. We knew Celebrations was going to be the perfect venue when we first toured it. They made our lives so much easier because they had their own vendors we could choose from. Plus they do the food there. Not being from the area and having no clue about vendors in the area, this helped tremendously. We also loved that we got to work with a wedding coordinator. Ann was THE BEST.
What was your favorite moment of your wedding day?
This is almost impossible to answer because the entire day was amazing. Our ceremony was both of our favorite parts. We wrote our own vows and although we were both pretty nervous, they turned out perfect. Our reception was an absolute blast too. I've never been to a wedding where the dance floor was consistently packed the whole night. Which we can thank our DJ, Brent for because the hits were playing non-stop.
Would you change anything if you could do it all over again?
I (Halie) would have taken the time to eat more of the food. I was too busy with pictures to have any appetizers, and too busy dancing for any of the cheesecake bites and late night pizza. Everyone complimented how good the food was, but I wouldn't have known because I didn't eat any haha. We did not do a first look which I don't regret, but not doing so meant that we had to do all the photos after the ceremony which took a lot of time. So I would have maybe reconsidered that.
What was one thing you obsessed over, but realized it did not matter?
Our guest list/table seating. We had so many people back out last minute and trying to reorganize tables was a headache.
What advice do you have for future couples planning their weddings?
Have your wedding at Celebrations! Or an all inclusive event space if you are not looking to do it in the Lacrosse area. The ease of planning our wedding was hugely because of Celebrations, Ann, and our vendors. Also, don't stress the small or big stuff. Even if hiccups happen throughout the planning process or even the day of (we had our videographer cancel on us 20 minutes before he was scheduled to be there). You just have to roll with the punches and everything will turn out the way it was supposed to. None of those things will matter in the end.
How did you manage your guest count?
We invited 250-ish people and had 150 people there. We invited friends, family and plus ones only for people we had both met.
Who were your vendors? (DJ, Photographer, Flowers, Hair/Makeup, Dessert, etc.) How did you choose them?
DJ – Brent – Ever After Entertainment – this was a no brainer. We met Brent at our tasting event and clicked immediately. He absolutely killed our ceremony and the reception.
Photographer – Sparrow & Laine Photography – I've known Abby for years and always admired her work, so I knew I wanted her as our photographer.
Hair – Taylor – TLA Hair Studio – also recommended by celebrations and loved her work. She was amazing to work with.
Makeup – Makeup by Brooke Weber – recommended by celebrations and other brides. She does amazing natural makeup and was fun to work with. She also was so helpful in finding our last minute videographer.
Videographer – Bailey Nelson – BVisions Media Bailey was who saved the day after our original videographer canceled. We lucked out big time having him at our wedding!